Snooper 4ZERO explained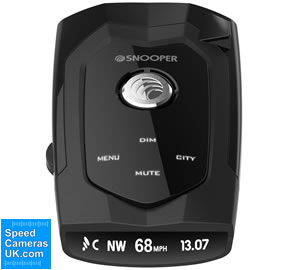 Snooper 4ZERO is our best selling GPS, radar and laser detector from speed trap detector pioneers Snooper. Boasting all three technologies - GPS, Radar and Laser detection, the Snooper 4ZERO will confidently alert you to fixed and mobile speed cameras not just in the UK, but in a growing number of countries across Europe and around the world too.
The Snooper 4ZERO speed trap locator is 100% legal to use in UK; however before using the device outside of the United Kingdom we recommend you check the legality of using radar/laser detectors within the country/countries you intend to use the device . For a list of countries included in the GPS database click here, or scroll down to 'Snooper AURA speed camera database' on this page.
Fixed and mobile speed cameras
When subscribed to the Snooper AURA speed camera database, the 4ZERO provide alerts to both fixed and mobile speed camera locations. These alerts are provided via an internal and updatable database of GPS co-ordinates.
When approaching a speed camera location found within the AURA GPS database the 4ZERO provides a warning in advance from 300metres. The Snooper 4ZERO beeps 3 times and provides spoken voice alerts at each fixed speed camera location including the road speed limit. This information means you do not need to take your eyes off the road to know you are approaching a fixed speed camera and to know the road speed limit at the sped cameras location.
When the Snooper 4ZERO isn't alerting to speed camera locations the units OLED screen displays an electronic compass, your vehicles speed and a digital clock with the current time.
Mobile speed cameras

The 4ZERO provides alerts to mobile speed camera via two different methods.
1. Via the Snooper AURA safety camera database (subscription charge applies) you'll automatically receive alerts to known mobile speed camera locations and accident blackspot locations alongside fixed cameras.
2. Via the 4ZERO's built-in radar and laser detector. When you come into range of a live device using either of these technologies e.g. fixed Gatso's use radar technology, the Snooper 4ZERO will sound an audible alert.
Red Light cameras

Red light camera locations are NOT included within the Snooper AURA speed camera database of GPS locations, which the 4ZERO uses. However, thanks to the fact that the 4ZERO includes a radar detector, if the red light enforcement camera is using radar technology the 4ZERO will provides alerts to do these too.
Some red light cameras also double as a speed camera. Systems manufactured by Gatsometer, the company behind the infamous Gatso speed camera are almost certainly serving a dual purpose. To read more about traffic light (speed) cameras click here.
---
4ZERO GPS database alerts
When approaching a speed camera location which is within the Snooper 4ZERO's GPS database the 4ZERO provides spoken voice alerts and on screen alerts. The 4ZERO will beep 3 times and emit a voice alert. At the same time the 4ZERO display will visually confirm the alert. If at anytimeyou would like to cancel the auible alert, you can do this by pressing the mute button located on top of the device.
4ZERO Radar detection alerts
When approaching a radar frequency e.g. a fixed Gatso speed camera, the Snooper 4ZERO will confirm the frequency type, X, K or Ka and will indicate the signal strength. The signal strength will increase as you approach the source of the radar and decrease as you drive away from it. 4ZERO will emit and audible beep pattern and voice alert, based on the City Mode selected.
4ZERO Laser detection alerts
When approaching a Laser alert, 4ZERO will produce an 'instant on' alert by indicating on the display that you are approaching a laser source with a full audio alert.
If at any time you want to cancel the audible alert, press the Mute button on top of the device
When not alerting to speed cameras the Snooper 4ZERO provides the following information via the OLED screen:
‣GPS signal strength
‣Mode: City, City Max or Motorway (learn more on page 9 of the manual)
‣Electronic compass: e.g. NW
‣Your vehicles speed: e.g. 68mph
‣Current time: e.g. 13.07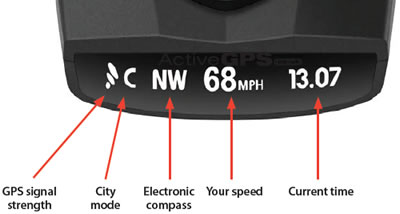 ---
Snooper AURA speed camera database

Like all Snooper speed camera detectors and sat navs, the Snooper 4ZERO gets its speed camera locations via the Snooper AURA speed camera database. Updated daily, the AURA database can be downloaded to the device via a PC connected to the Internet with USB connection. It's important you regularly update, as the 4ZERO GPS database is only as good as the last download.
Countries included in the AURA database are: UK and Ireland, Germany, Holland, Belgium, France, Spain, Portugal, Switzerland, Italy, Austria, Luxembourg, Denmark, Norway, Sweden, Finland, Poland, Romania, Russia, USA, Canada, Australia, New Zealand, South Africa.
AURA database is available via subscription from the manufacturer and priced at either £2.99 a month, £7.99 a quarter or £29.99 a year.
---
Detectable Speed Cameras
Utilising GPS, radar and laser detection the 4ZERO will provide advanced warnings to the following fixed and mobile speed cameras:
Fixed cameras:
‣Gatso
‣Truvelo
‣Truvelo D-Cam
‣SPECS
‣HADECS 3
‣SpeedSpike
‣Peek
‣SpeedCurb
‣Watchman
Mobile cameras:
‣Radar based devices including live Gatso and radar based red light cameras
‣Laser based devices
---
Snooper 4ZERO Features:
‣Alerts to fixed and mobile speed traps
‣White OLED text display confirms cameras details
‣GPS based camera detector
‣Includes built-in radar and laser detector
‣Spoken voice alerts at all fixed locations (via the GPS database)
‣Speed limit confirmed via spoken voice alerts at fixed speed camera locations
‣Speed trap proximity warning from 300metres
‣Electronic compass
‣Displays current time
‣Updates via PC
‣Ultra slim, ultra compact
‣Fully Portable, easy to transfer from vehicle to vehicle
‣1 Year manufacturers guarantee
Snooper 4ZERO Manual
Learn even more about the Snooper 4ZERO by reading the manual. Please click the PDF logo below. The manual opens in PDF format.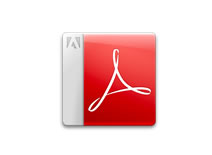 ---
Snooper 4ZERO Questions and Answers
Question: Why does my Snooper not alert me to mobile camera vans? I have a 4 zero.
Answer: The Snooper 4ZERO requires either a live radar or laser signal to work. If one is not being produced at the time you are driving past the mobile speed camera van then the 4ZERO will remain silent.
In addition not all "mobile camera vans" are there to record speed.
---
Question: Does the snooper 4zero have to be wired in by a mechanic or is it just a plug in to the 12V connection?
Answer: When you buy the Snooper 4ZERO from SpeedCamerasUK.com included in the box are the following power leads:
‣2 Metre Straight Power Lead
‣2 Metre Hardwire Power Lead
So both a plug in 12v connection cable is included along with a hardwire cable. To install the hardwire cable we would recommend a qualified auto electrician.
---
Question: Question about Snooper 4ZERO perametres: What is the maximum distance this unit can detect equipment being used by mobile Road Safety Camera Partnership Vans? I was told (by a camera operator) that the Twin Laser cameras being used record speed and number plates at 800metres, and up to 1000metres if car's course is in a straight line. Will the Snooper detect laser cameras at this distance?
Answer: Yes, as long as the Snooper 4ZERO laser sensor/detector receives the signal, it will alert you of the presence of a laser based camera site.
Like you say the laser beam travels in a straight line, I will also add that when it hits a target vehicle the beam can be as small as 10cm in diameter.
---
Question: I'm looking to buy a speed camera detector and I think Snooper 4 zero is best for my needs. I just want to double check if it detects police not marked cars with cameras that track from behind? Are they called Blue eye? Is it works in Europe with speed guns and cameras?
Answer: The Snooper 4ZERO features built in radar and laser detection. If any Police vehicle, marked or unmarked is using a radar/laser gun, the 4ZERO will be able to detect it.
If you are being followed by a Police vehicle (marked or unmarked) and the Police officer is simply using the vehicles speedometer and CCTV to record any driving offence, the 4ZERO will have no way of detecting.
When you mention the Target Blu Eye, this is a separate device that picks up the radio system used in emergency vehicles from Fire Engines to Police vehicles (marked and unmarked), the Target BlueEye is priced at £749.99 and can be viewed here.
The Snooper 4ZERO works in UK and mainland Europe.
---
Snooper 4Zero software requirements:
The Snooper 4Zero will only operate on Windows computers. Specifically, you must be using Windows XP, Windows Vista, Windows 7, Windows 8 / 8.1, Windows 10. Additionally the software will only work with Internet Explorer 8 or Firefox 10 or above.
The Snooper 4Zero will NOT operate when using Windows 95, 98, 98SE, Windows 2000, Millennium or Apple Macintosh operating systems.
---
Subscription:
1 Month: £2.99
3 Months: £7.99
1 Year: £29.99
Camera updates:
Updates via Windows based PC.
Please note: the Snooper 4ZERO is not MAC compatible.
---
Snooper 4ZERO - What's in the box?
‣Snooper 4ZERO
‣2 Metre Straight Power Lead
‣2 Metre Hardwire Power Lead
‣Windscreen Suction Cup Bracket
‣Velcro Pad for dashboard mounting
‣USB Cable
‣Snooper 4ZERO CD-Rom with User Guide, Software and Drivers
If you require additional accessories for the Snooper 4ZERO these can be purchased via the Snooper 4ZERO accessory page.
Pictured below - windscreen mounted and dash mounted Snooper 4ZERO, both options are included in the box when you buy the 4ZERO from SpeedCamerasUK.com.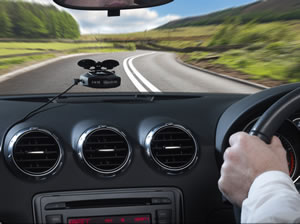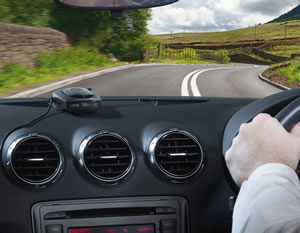 ---
SpeedCamerasUK.com Online Shop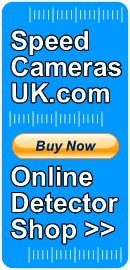 All of the speed cameras detectors at SpeedCamerasUK.com are also available to buy from us and include FREE delivery within the United Kingdom (UK). For deliveries outside of the UK please see delivery information for costs.
We hold extensive stock of each model (unless otherwise indicated) with dispatch same working day for orders placed before 3pm on any working day.
15 years of online trading
We first started selling speed camera locators right here at SpeedCamerasUK.com in August 2003. With 15 years of trading you can rely on us to only supply the best tried and tested products with unrivalled product knowledge from ourselves and, equally important, excellent support from the relevant manufacturer if it is required.
To view the latest range of speed camera detectors to buy click here.
Last updated: 18th December 2018