Home / Sat Nav Reviews / Sat Nav Detectors Buyers Guide
Sat Nav Detector Buyer's Guide

If you are looking to buy a satellite navigation system with a speed camera locations database, you may have a few questions regarding how dependable the database is. Here we introduce you to the features of different sat navs.
Satellite navigation or sat navs were introduced to the UK in the 1990's. Prices have fallen considerably whilst features have increased. You may prefer to read about dedicated speed camera detectors or smartphone apps.
Here at SpeedCamerasUK.com we also have an online shop where you can buy a satellite navigation system that can include speed camera locations so you can navigate from A to B whilst being alerted to all speed cameras along your route. Visit our online sat nav shop.
---
Specific navigation for your vehicle
Did you know there are different models of sat navs for different vehicle types. If you drive a car there is the Snooper Syrius sat nav, if you drive a lorry or large van then you should buy the Snooper Truckmate and if drive a motorhome or pull a caravan then you should look at the Ventura range.
---
Speed cameras databases in sat navs
Speed cameras are included within many sat navs as a speed camera database. In fact Snooper sat navs include the same database as in their dedicated speed camera detectors.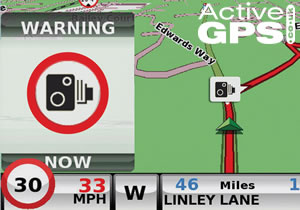 ---
Visual and audio alerts
Speed camera locations are stored in the device as a Points Of Interest (POI) database of GPS co-ordinates. As the driver and his/her sat nav comes within a certain proximity of a speed cameras location a visual and audible warning is given via their sat nav.
---
Speed limit advisory
As well as alerts at actual speed camera locations. Many sat navs also provide an on-screen speed limit symbol, advising you the roads speed limit in the corner of the screen.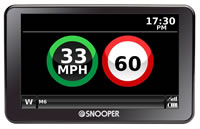 Snooper's latest sat nav the SC5800 DVR (pictured right) takes this one step further with a feature called MY-SPEED XL.
The Snooper SC5800 DVR sat nav features a 5-inch touchscreen display, which can be used to exclusively display your vehicles speed, along with the speed limit of the road you happen to be driving.
---
How often are the databases updated?
Depending on the manufacturer of sat nav they are updated with differing frequency. You pay a monthly subscription for the speed camera database and then you get access to update the speed camera database as frequently as you prefer.
However it is worth noting that some companies do not update the database as frequently as others. For example, TomTom do not update their database as frequently as Snooper. Snooper update their database every day with new locations and they also edit existing locations for changes in speed limit of roads for example.
For this reason here at SpeedCamerasUK.com we only sell Snooper sat navs with the AURA speed camera database because we know it provides our customers with the best speed camera database of locations available.
---
Can I add laser or radar detection to my sat nav?

There are no sat navs that have a radar or laser detector built-in. You can however buy a Snooper Laser Pod that attaches to the back of your sat nav device. The Laser Pod adds laser detection to your sat nav device and this will detect laser guns in use by the Police and other Safety Camera Partnerships. The other option is to buy a separate radar/laser detector to use along side you sat nav.
---
Is a sat nav as good as a dedicated speed camera detector?
The database used by sat navs is the same as that used in dedicated speed camera detectors. However, dedicated speed camera detectors often come with a laser detector which will detect mobile speed camera guns. As mentioned above you could buy this separately making a sat nav just as good as a dedicated speed camera detector at detecting all types of speed cameras.
---
Sat Nav Questions and Answers
Question: I have a Seat Leon which has a sat nav system installed as a part of the media system, the sat nav is run by a SD card installed in slot in glove compartment of the car.0
Can you provide a database of speed cameras for this sort of system?
Answer: You will need to contact Seat to ask them if a database exists. Seat will be able to supply if available; map updates and speed camera database at most likely an annual charge.
I don't believe that this will be available from a third party. If Seat are unable to supply with a database of speed cameras, you will then need to consider a dedicated speed camera database such as the Snooper 4ZERO Elite BT which uses GPS speed camera database, radar detection and laser detection, which is far better than any sat nav with speed cameras.
---
Question: I have a TomTom sat nav, I update it regularly, but I would like a device that detects mobile speed traps, not locations, whether it be camera vans, or police, I don't intentionally break the law, but I am human, and im afraid ALL humans make mistakes.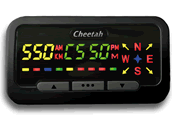 Answer: To detect LIVE in use mobile speed camera locations you will need to buy a dedicated speed camera detector with either radar and/or laser detection. Sat navs such as the TomTom don't feature radar/laser detectors.
I would recommend either the Cheetah c550 Platinum (pictured right) or Snooper 4ZERO Elite BT speed camera detector.
---
Question: I have purchased a new vehicle with the latest built in sat nav. However it does not give warning of speed cameras which I thought was a fault at first, but apparently not. Is there anyway that this facility can be added to an existing built-in system? Apologies if this seems like a silly question but my knowledge of the workings of these things is virtually nil.
Answer: We have no knowledge of built-in car sat navs. I would recommend that you speak to the installer and/or manufacturer to find whether a POI (Point of Interest) database that includes speed camera locations can be added to the device. Portable plug-and-play sat navs such at the Garmin nuvi range can have POI's added. You would need to discover is this is also true of the sat nav you have built-in your car.
If it doesn't offer this facility, then my recommendation would be to buy a standalone and dedicated speed camera detector.
---
Question: My sat nav alerts me to speed cameras but how do I know if cameras are working or switched off?
Answer: There is no way of knowing whether a speed camera is working or switched off with a sat nav.
Depending upon the type of speed camera it is possible to know with a radar based speed camera detector such as the Snooper 4ZERO Elite BT.
Fixed Gatso speed cameras use radar technology, a radar detector is able to detect the radar signal.
However, many speed cameras e.g. Truvelo, Vector and SPECS all have no signal to detect, so in these cases there is no way of telling whether these cameras are operational or not.
---
Last updated: 11th September 2023