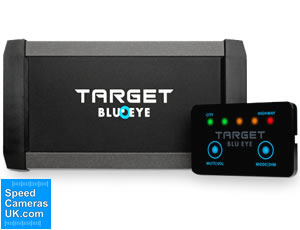 Target Blu Eye is based on TETRA technology, in the UK it is known as the Airwave Network which is widely used for the communication between different emergency/Police vehicles. Target Blu Eye is able to warn you in advance of approaching emergency services, such as Police cars - both marked and unmarked, Police motorbikes, fire engines and ambulances.
Product summary:
Technology: TETRA
Installation: Permanent, hardwire.
Target Blu Eye detects emergency services radios (TETRA radios)
Detects Police cars (marked and unmarked), Police vans, Police motorcycles, ambulances and fire engines.
---
1 Year Guarantee with FREE UK delivery.
Target Blu Eye - £899.99
Call Sales: 01733 777623 (Mon-Fri 9:30am to 5:00pm)
Delivery in the United Kingdom (UK) is FREE on all orders over £50. Next working day delivery available for £9.99. For full delivery details please see delivery information.
---
Target Blu Eye explained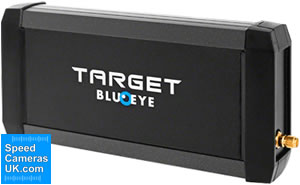 Target Blu Eye is an in-vehicle device that informs you when there is an emergency vehicle close by - often long before you hearing it approaching emergency/Police vehicle when the sirens are being used.
Using TETRA (Terrestrial Trunked Radio) technology, the Blu Eye alerts the driver there is an emergency vehicle in the area such as Police cars, Police vans, Police bikes, fire engines, ambulances, etc. This is thanks to fact that all emergency/Police vehicles in the UK use TETRA radios as standard. The Target Blu Eye will also warn to both marked and unmarked Police vehicles.
The Target Blu Eye will alert you via a 'control panel' (pictured below) installed on your vehicles front console, dashboard, windscreen, etc when there is an emergency vehicle within a kilometre radius, whether they are using their sirens or not. The Target Blue Eye promotes a safer driving attitude and ensures you will not need to make any dangerous maneuvers when an emergency vehicle is nearby.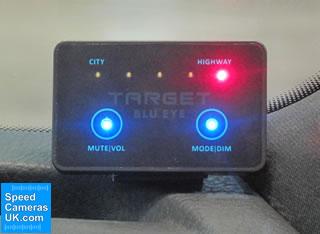 Pictured above: Target Blu Eye control display panel delivers clear alerts in your vehicle.
---
On screen visual and audible tone alerts you to the type of vehicle within 1km of your vehicle. You can then move safely out of the way knowing you are not obstructing an emergency vehicle. There are two sensitivity modes, these are Highway and City mode.
‣Highway mode has the longest detection range which is ideal when travelling at high speed on a motorway for example.
‣City mode reduces the range of detection and is recommended for use of the Target Blu Eye in urban areas. The maximum range is approximately 1 kilometre.
Using this device will improve the safety of your driving in relation to emergency vehicles.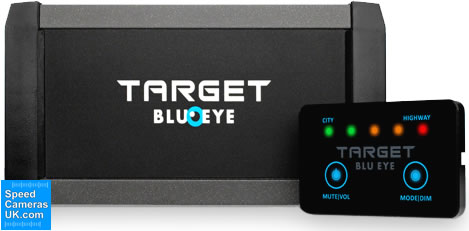 Completely legal
Target Blu Eye is completely legal to use in the as it simple tells you when there is an emergency vehicle close by. It cannot differentiate between police cars, ambulances and fire engines so you will only know there is an emergency vehicle approaching and you will not know the type of vehicle.
UK and other countries
Target Blu Eye will work in the United Kingdom because the emergency services use the TETRA network. Other countries emergency/Police vehicles that also use TETRA radio technology include:
‣The Netherlands
‣Belgium
‣Croatia
‣Germany
‣Austria
‣Scandinavia
‣Slovenia
‣Spain
‣Portugal
‣Hungary
‣Italy
Coverage is variable and cannot be guaranteed and may be regional.
The Target Blu Eye does not tell you when there is a TETRA Radio used for civil purposes. because emergency services use a different frequency.
---
Detection Range
The detection range of the Target Blu Eye varies from hundreds of metres to approximately one kilometre. You can select different sensitivity modes. The environment can affect the range too (ie. In a city such as London buildings may shorten the length). The type and location of the antenna used also affects the range of detection of emergency vehicles.
It is worth noting that that emergency services do not always transmit signals for the Target Blu Eye to detect. The TETRA Radio inside emergency vehicles can be switched off or be in direct mode (DMO). This will mean you will not detect the approaching emergency services in these situations.
T7 antenna included. High gain or mid gain antennas are not included
The Target Blu Eye system has a 2 year warranty.
---
Target Blu Eye:
Key Features:
‣Detects TETRA Radios
‣Completely legal to use
‣TETRA radios are use in Police cars, Police Vans. Police motorcycles, Fire Engines and Ambulances
‣2 Sensitivity modes: City and Highway modes
‣Maximum range is 1km
‣T7 antenna included. High gain or mid gain antennas are not included
---
Installing the Target Blu Eye
The Target Blu Eye is not a plug and play device, but instead requires professional installation into your vehicle - enabling the unit to be hardwired. We therefore recommend you use the services of a qualified automotive electrian/your local garage to carry out the installation.
In total there are three parts to install which are the antenna, central unit and the control display unit.
1. Antenna Installation
The most important part of the installation process is to mount the provided Antenna in a place inside the vehicle where it is fairly high-up within your vehicle. You could mount the antenna behind the rear view mirror out of sight of the driver. You may also choose to mount the antenna on the roof of your vehicle. You cannot locate the standard antenna in these locations: Under or behind the dashboard, in the engine compartment or behind the bumper. If there is too much 'electrical noise' this will mean you cannot install the Target Blu Eye effectively in your vehicle. The standard antenna will work with vehicles with heated windshields or heat insulting glass.
If you want to locate an antenna in the following locations this is possible but you will need a different antenna (please contact us if you wish to buy one of these alternative antennas):
‣Dipole antenna - install in front or rear bumper
‣Panel mount base antenna - install on the tailgate or rear spoiler
‣Combi TETRA/FM Radio/GPS Antenna - better performance than standard antenna
‣Sharkfin suitable for (Audi/BMW/Mercedes Bez/Volvo) - better performance than standard antenna
2. Central Unit Installation
The main central unit should be mounted in the boot if the antenna is mounted in the back of the car. If you locate the antenna in the front of the vehicle, you should mount the main unit nearby such as under the dashboard.
3. Control Display Unit Installation
The control display unit should be located in a visible location for the driver to easily access. It is important that the shielded 5 metre cable between the central unit and the display MUST NOT be cut, shortened or extended. You can choose to mount the display unit in the rear view mirror which allows for a discrete neat installation. The Target Blu Eye is very slim and can be mounted horizontally on the dashboard whereby the LEDs reflect on to your windscreen and will be visible to the driver.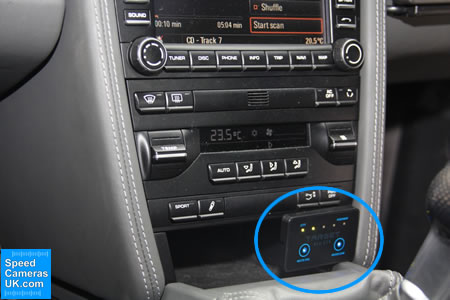 Pictured above: Blu Eye control display panel located low down on vehicles central console.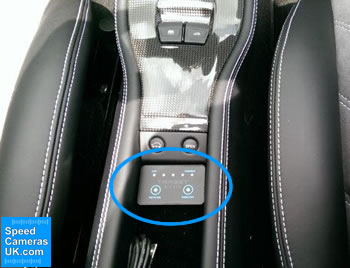 Pictured above: Target Blu Eye control display panel fitted inbetween front seats.
---
Target Blu Eye - What's in the box?
‣Target Blue Eye Display Unit
‣Target Blue Eye Central Unit
‣Standard Antenna (other antennas available - please contact us for more information)
‣Shielded 5 metre cable
---
Target Blu Eye - Specifications
‣Power supply: 10-30V
‣Power consumption while display is switched on: 300mA (350mA max.)
‣Power consumption while display is switched off: 275mA
‣Fuse: 3A
‣Frequency range: 380-400 Mhz
‣TETRA detection by Waveform recognition, no decoding
‣Temperature range: -20 degrees celcius to +70 degrees celcius
‣Dimensions central unit: 160 x 82 x 27mm (Lengh x Width x Height)
‣Dimensions display: 64 x 40 x 7.5mm (Lengh x Width x Height)
‣Dimensions antenna: 72mm (Height); Diameter base: 35mm
‣Diametre antenna: 15mm
---
Target Blu Eye User Manual
Looking for more information on the features of the Target Blu Eye or how it installs in your vehicle, etc? View the Target Blu Eye manual by clicking the PDF logo below. The user and installation manual opens in PDF format.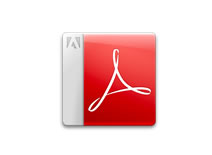 ---
Making a purchase from SpeedCamerasUK.com
Once you've found the sat nav, speed camera detector, other electronic device or accessory that you'd like to purchase you can buy online using a debit/credit card or via PayPal. We use SagePay to process our online payments who are PCI DSS Level 1 compliant, so you have total peace of mind with your personal and payment details.
All of our products are sophisticated electronic devices which requires that you read, understand, and act upon the information given in the instruction manual (usually available via the above 'manual' link). You will need internet access and, in accordance with the manufacturers' recommendations, regularly seek out and accept all firmware or software updates offered by the manufacturer. All GPS devices need to 'see' the satellites in the sky. Therefore you will need to know that your vehicle does not have glass that will block or impede the GPS signal. The same advice about vehicle glass applies to radar and laser signals.
---
SpeedCamerasUK.com Online Shop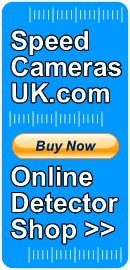 All of the speed cameras detectors at SpeedCamerasUK.com are also available to buy from us and include FREE delivery within the United Kingdom (UK). For deliveries outside of the UK please see delivery information for costs.
We hold extensive stock of each model (unless otherwise indicated) with dispatch same working day for orders placed before 3pm on any working day.
15 years of online trading
We first started selling speed camera locators right here at SpeedCamerasUK.com in August 2003. With 15 years of trading you can rely on us to only supply the best tried and tested products with unrivalled product knowledge from ourselves and, equally important, excellent support from the relevant manufacturer if it is required.
To view the latest range of speed camera detectors to buy click here.
Last updated: 11th January 2019