SpeedCamerasUK.com Shop
Buy your speed camera detector from SpeedCamerasUK.com. We sell the complete range of speed camera detectors for use in the UK and across Europe.
At SpeedCamerasUK.com we offer FREE UK delivery on all orders over £50, plus various premium options including working next day at £9.99. Delivery outside the UK costs £14.99 within Europe and up to £29.99 for the rest of the World. For more information please see delivery information.
Speed camera detector recommendations
These include the Cheetah C550 which includes GPS database. Furthermore the Snooper 4ZERO Elite BT includes GPS, radar and laser detection making it the only speed camera detector to detect all cameras (including radar and laser guns).
For more information about GPS speed camera detectors please see our buyers guide.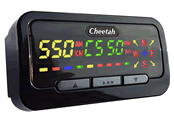 ‣ GPS detector
‣ OLED screen
‣ Voice alerts
‣ GPS, radar, laser detector
‣ LED screen
‣ Voice alerts
‣ Wireless updates via Bluetooth of PC updates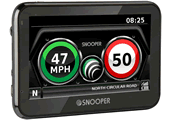 ‣4.3-inch TFT LCD screen
‣ Display all road speed limits
‣ FREE GPS speed camera detection
Sat Nav Recommendations
We sell the complete range of Snooper sat navs. There are up to three versions of each Snooper sat nav model, these include:
Truckmate for use in a lorry/van/truck
Ventura for use with caravans and motorhomes
Bus and Coach for use in a bus/coach/mini bus.
The Snooper Truckmate, Ventura and Bus and Coach models all allow you to input your vehicles dimensions and you will then be routed along appropriate roads only.
The top-of-the-range Snooper sat nav is the Snooper S8110 which includes DAB Digital Radio and DVB-T Digital Television as well as turn-by-turn directions and GPS speed camera detector. Another great sat nav is the Snooper SC5800 which features not only sat nav capabilities but also an in-car camera. The screen is 5-inches in size and you get FREE TMC Traffic Information also.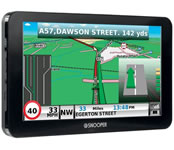 ‣ 7 inch display
‣ DAB Digital Radio
‣ DVB-T Digital Television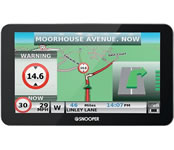 ‣ 7 inch display
‣ Optional speed cameras
‣ FREE TMC traffic information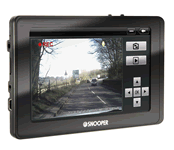 ‣ 5 inch display
‣ In-car camera
‣ FREE TMC traffic information
Last updated: 17th October 2018