Snooper 4ZERO Elite BT with FREE Subscription Explained
The Snooper 4Zero Elite BT (Bluetooth) is a GPS, radar and laser speed camera detector that will alert you to speed cameras in the UK and Europe and many other countries (see the country list by clicking here). The alert range via GPS is up to 700metres. Laser detection can be up to 1 mile and radar is generally 1 mile away.
Subscription to the GPS speed camera database is FREE for the lifetime of the Snooper 4Zero Elite BT device. However, you are required to register the speed camera detector product with Snooper for access to downloading the Snooper AURA GPS speed camera database. You can use the built-in radar and laser detector without registering.
New Bluetooth Connectivity
The 4ZERO Elite BT features Bluetooth technology for wireless connection to a compatible mobile phone or tablet device. Once connected to a smartphone you can then receive speed camera database updates live, as you are driving (downloaded via your phone connection; data charges may apply depending on your phone charges). If you prefer to download the speed camera database at home or work then you can use either a compatible Apple Mac or Windows PC to update your Snooper 4Zero Elite BT detector.
On approach to a speed camera location within the GPS database the Snooper 4ZERO BT will alert you via a beep and spoken voice alerts. The radar detector not only alerts you to handheld radar guns but it also can tell you whether speed cameras are active. For example, Gatso speed cameras use radar detection within the camera enabling the Snooper 4ZERO Elite BT to tell you whether the speed camera is live and in use or not.
Autoranging feature provides less distance of warning when driving at low speeds and more advanced distance warnings when travelling at high speeds. This is useful when driving on motorways and slow roads during the same journey.
To be alerted only to speed cameras in your direction of travel Snooper 4Zero Elite BT has a Directional Alerts feature.
You may use the Snooper 4Zero Elite BT without the GPS speed camera database. This enables to use only the radar and laser detection of the Snooper 4ZERO BT. This may be a useful feature in countries where Snooper do not provide coverage via the GPS database whereby you can continue to use the devices other detection methods. Please ensure that you check with local and national authorities within the country you intend to use the Snooper in before using the speed camera detector.
The OLED screen displays GPS signal strength, City Mode status, Electronic Compass, your vehicles speed and the current time. Set up is simply 'plug and play.' Included in the box is a cigarette lighter adapter, dashboard mount and windscreen mount giving you 2 options to mount the Elite BT in your vehicle. 
Speed limit
Manually set a speed limit and if you drive above this predefined speed you will be alerted.
Volume control
Control the volume of the Snooper 4ZERO Elite BT with the volume dial. Plus there is a mute button to receive no sound warnings.
Auto-ranging alerts
Auto ranging alerts are also included. This feature provides warning a greater distance before the speed camera when driving on roads with a high speed limit and less advanced warning if driving on slow roads.
| | |
| --- | --- |
| Speed Limit | Pre-Alert Distance |
| 20-30mph | 200metres |
| 40mph | 250metres |
| 50mph | 300metres |
| 60mph | 400metres |
| 70mph | 700metres |
City and Motorway modes
There is a City Mode which can be switched on the reduce the number of false alerts from shop doorway sensors, shop and house burglar alarms and such like when using the radar and laser detectors. There is also a Motorway mode whereby alert volumes for detection can be predetermined.
Front and rear laser detection
Not only will the Snooper 4ZERO Elite BT warn you of laser speed cameras targeted from in front of your vehicle it will also alert to laser guns targeted from behind your vehicle.
GPS, radar and laser detection
The Snooper 4ZERO Elite BT is the only speed camera detector that uses all three technologies (GPS, radar and laser). GPS is used to warn you of all fixed speed cameras whereas radar and laser will detect all mobile speed traps. See the mobile speed cameras warned to below:
Mobile speed cameras
‣LTI - Marksman 20.20.
‣ LTI - UltraLyte(100pps included), LR, 100, 100LR, 200, 200LR,
‣Compact, LRB
‣Kustom - ProLaser I
‣Kustom - ProLaser II
‣Kustom - ProLaser III
‣Kustom - Pro-Lite
‣Kustom - LaserCam II
‣Stalker - LZ-1
‣Laser Atlanta - SpeedLaser, S, R, Stealth Mode
‣Cleartone - Stealth SpeedLaser
‣Jenoptik - LaserPatrol
‣Jenoptik - Laveg, Video-Laveg
‣Multanova - StarLaserRedflex - Lasercam, Lasercam NT
‣Robot - TraffiPatrol, V
‣Sagem - MestaLaser
‣Sagem - EUROLaser
‣Truvelo - Lidar, D-Cam
‣Riegl - LR90-235
‣Fama - famaLaser II
‣Fama - famaShot III
‣Traffic Observer - LMS 291/221/04/05
‣NJL Kft - SCS-101/SCS-102
Mobile speed camera range:
Radar guns: over 1 mile
Laser guns: up to 1 mile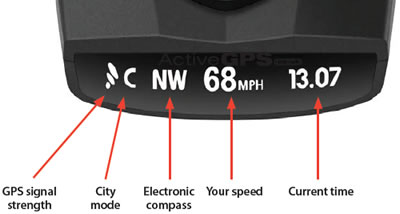 ---
Snooper AURA speed camera database

Like all Snooper speed camera detectors and sat navs, the Snooper 4ZERO Elite BT gets its speed camera locations via the Snooper AURA speed camera database. Updated daily, the AURA database can be downloaded to the device via a PC connected to the Internet with USB connection. It's important you regularly update, as the 4ZERO Elite BT GPS database is only as good as the last download.
In addition to the UK and Ireland, the AURA speed camera database now offers Worldwide protection. Included in Snoopers database are locations in Germany, Holland, Belgium, France, Spain, Portugal, Switzerland, Italy, Austria, Luxembourg, Denmark, Norway, Sweden, Finland, Poland, Romania, Russia, North America, Canada and South Africa.
Snooper 4Zero Elite BT can be used as a standalone Laser/Radar detector in countries not mentioned above. Please check local laws on speed camera detection before purchasing. 
AURA database is available via FREE subscription from the manufacturer and there are no additional charges to pay once you have bought the Snooper 4ZERO Elite BT speed camera detection device.
---
Detectable Speed Cameras
Utilising GPS, radar and laser detection the 4ZERO Elite BT will provide advanced warnings to the following fixed and mobile speed cameras:
Fixed cameras:
‣Gatso
‣Truvelo
‣Truvelo D-Cam
‣SPECS
‣HADECS 3
‣SpeedSpike
‣Peek
‣SpeedCurb
‣Watchman
Mobile cameras:
‣Radar based devices including live Gatso and radar based red light cameras
‣Laser based devices
---
Snooper 4ZERO Elite BT Features:
‣White text on a black background; OLED screen
‣Updates via Bluetooth, PC or Mac
‣Alerts to all fixed and mobile speed camera using GPS, radar and laser technology
‣FREE subscription; no additional charges to pay after buying the speed camera detector
‣Inlcudes worldwide speed camera database
‣Voice and tone alerts
‣Auto-ranging alerts
‣Directional alerts
‣Electronic compass
‣Displays current time
‣Easy to use in multiple vehicles (plug and play design)
‣Includes hardwire kit
‣Includes cigarette lighter cable and both windscreen and dashboard mounting options
‣Fully Portable, easy to transfer from vehicle to vehicle
‣1 Year manufacturers guarantee
Snooper 4ZERO Elite BT Manual
Learn even more about the Snooper 4ZERO Elite BT by reading the manual.
---
Snooper 4Zero Elite BT software requirements:
Downloading the AURA speed camera database can be done via Bluetooth when connected via Bluetooth to a compatible Smartphone. The speed camera database will then download updates as you are driving eliminating the need to connect to a PC or Mac. If you prefer, PC and Mac downloads are still available:
The Snooper 4Zero Elite BT will only operate on Windows computers. Specifically, you must be using Windows XP, Windows Vista, Windows 7, Windows 8 / 8.1, Windows 10. Additionally the software will only work with Internet Explorer 8 or Firefox 10 or above.
The Snooper 4ZERO Elite BT will also work with the Apple Macintosh operating systems.
The Snooper 4Zero Elite BT will NOT operate when using Windows 95, 98, 98SE, Windows 2000 or Millennium.
---
Subscription:
Subscription is FREE for the lifetime of the Snooper 4ZERO Elite BT.
Camera updates:
Updates via Windows based PC or Apple Mac computer.
---
Snooper 4ZERO Elite BT - What's in the box?
‣Snooper 4ZERO Elite BT
‣2 Metre Straight Power Lead
‣2 Metre Hardwire Power Lead
‣Windscreen Suction Cup Bracket
‣Velcro Pad for dashboard mounting
‣CD-ROM with drivers for MAC and Windows
‣USB Cable
If you require additional accessories for the Snooper 4ZERO Elite BT these can be purchased via the Snooper 4ZERO Elite BT accessory page.
Pictured below - windscreen mounted and dash mounted Snooper 4ZERO Elite BT, both options are included in the box when you buy the 4ZERO Elite BT from SpeedCamerasUK.com.
Please note: The Snooper 4ZERO has no internal battery and cannot be charged or powered indoors by PC or AC mains charger.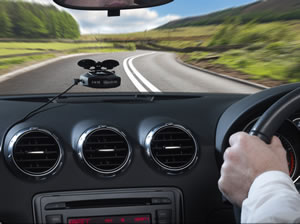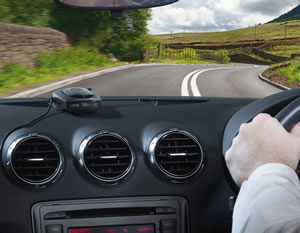 ---
Snooper 4ZERO Elite BT Questions and Answers
Question: I'm not a person that would manage the updating of the detector that easily but would be happy enough to use the Snooper 4 Zero Elite BT as a detector for manually held speed guns as this is my biggest woe!!!!! My question is not being that technical how easy is it to get it to work i.e. from taking the Elite out of the box how much do I need to do to get it operational is it easy?
Answer: The Snooper 4ZERO Elite BT radar and laser detector will work straight out of the box. If you are not intending to use the GPS database of speed camera locations, you will not need to register or download anything to the device.
---
Question: How does the snooper 4 elite bt get power? Is it with the cigarette lighter socket?
Answer: The Snooper 4ZERO Elite BT does not feature a built-in battery, therefore it requires powering at all times in your vehicle. When you buy the Snooper 4ZERO Elite BT from SpeedCamerasUK.com two vehicle power cables are included in the box these are:
1. 2 Metre Straight Power Lead
2. 2 Metre Hardwire Power Lead
The 2 Metre Straight Power Lead plugs directly into your vehicles cigarette light socket. The 2 Metre Hardwire Power Lead can be hardwired to your vehicles electrical supply. We recommend using the services of a qualified auto electrician for hardwiring.
---
To submit your question please click here.
---
Making a purchase from SpeedCamerasUK.com
Once you've found the sat nav, speed camera detector, other electronic device or accessory that you'd like to purchase you can buy online using a debit/credit card or via PayPal. We use SagePay to process our online payments who are PCI DSS Level 1 compliant, so you have total peace of mind with your personal and payment details.
All of our products are sophisticated electronic devices which requires that you read, understand, and act upon the information given in the instruction manual (usually available via the above 'manual' link). You will need internet access and, in accordance with the manufacturers' recommendations, regularly seek out and accept all firmware or software updates offered by the manufacturer. All GPS devices need to 'see' the satellites in the sky. Therefore you will need to know that your vehicle does not have glass that will block or impede the GPS signal. The same advice about vehicle glass applies to radar and laser signals.
---
SpeedCamerasUK.com Online Shop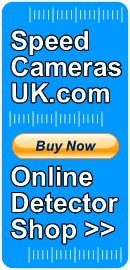 All of the speed cameras detectors at SpeedCamerasUK.com are also available to buy from us and include FREE delivery within the United Kingdom (UK). For deliveries outside of the UK please see delivery information for costs.
We hold extensive stock of each model (unless otherwise indicated) with dispatch same working day for orders placed before 3pm on any working day.
14+ years of online trading
We first started selling speed camera locators right here at SpeedCamerasUK.com in August 2003. We also sell the same products at our sister website ActiveGPS where we also sell an extensive range of GPS products, accessories and mapping software.
With 14 years of trading you can rely on us to only supply the best tried and tested products with unrivalled product knowledge from ourselves and, equally important, excellent support from the relevant manufacturer if it is required.
To view the latest range of speed camera detectors to buy click here.
Last updated: 23rd April 2018