---
Snooper S6900 Bus and Coach Sat Nav
The Snooper S6900 Bus and Coach sat nav features a 7-inch touchscreen and has been designed for drivers towing caravans and motorhome drivers. The dimensions of the S6900 are 187mm x 113mm x 16mm. Quick mounting is made possible with the included Active Magnetic Mount which allows clutter free cabling. The Snooper S6900 is also both Windows and Mac compatible.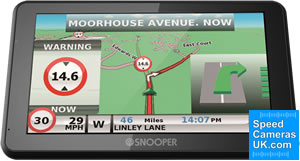 Free lifetime maps of Europe (the UK, ROI and Europe) are included with the Snooper S6900 Bus and Coach which are provided by the map provider Here Maps. To ensure your Snooper sat nav is kept up to date you will need to register your device upon purchase. 2D and 3D map views are also available.
Snooper S6900 includes FREE lifetime premium traffic management content provided by 100's of thousands of vehicles and sensors across the country providing upto the second information - if there is congestion on your route simply ask the Snooper sat nav to find an alternative route around it.
You can enter your vehicles dimensions (height, width) and weight into the Snooper S6900 as well as environment and load type settings. The Snooper S6900 7-inch is available in three models: Truckmate S6900 for use in a lorry of commercial vehicle, Ventura S6900 model is for use when towing a caravan or driving a motorhome and Bus and Coach S6900 model for use when driving a bus driver or drivers of coaches.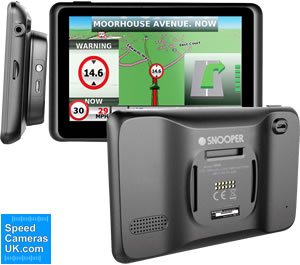 Post code search is provided by Royal Mail post code search. Two million points of interest are loaded into the S6900 including hotels, restaurants, shops, petrol stations, speed cameras and cash machines. Also Air1 AdBlue Retail Filling Station points of interest are displaying on screen.
Create and save up to 10 different profiles make it easy to switch and change vehicles to provide route information specific for that vehicle.
Bluetooth handsfree technology enables hands free calling whilst keeping both hands on the steering wheel which allows bluetooth connection to a compatible smartphone.
Monitor speed limits with My Speed Speed Limit information
The road speed limit will be displayed on screen whether there is a speed camera present or not. Speed limit data is provided for almost all European roads.
Junction view and lane guidance
Full screen images of main motorway junctions provide lane guidance which displays information as to which lane or lanes to use for safe driving.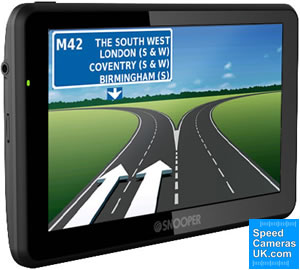 Multi-route technology
Enter up to 16 multiple destinations for the same journey (enter the postcode, junction number or destination) and the Snooper S6900 sat nav will find the most economical and easiest route which is calculated to save you time and money.
Route simulation runs a simulation of your journey before you travel. Enter your destination, press the 'simulation' button which will help you if you wish to add a stop-over to your journey but not sure where to stop.
Choice of map display colour allows 10 different colour configurations for the satellite navigation display.
Car navigation is also possible as the Snooper sat nav has car mode
There is a Video In socket for adding a compatible reversing camera. In addition there is an earphone socket for connecting headphones.
Software available to use with the Snooper S6900 provides valuable route planning and information for truckers (improve fuel consumption and reduce costs).