---
Snooper S6810 Ventura Sat Nav

The Snooper S6810 Ventura sat nav is designed especially for drivers of motorhomes or when towing a caravan. This Snooper also features an impressive 7-inch LCD touchscreen display.
The Snooper S6810 Ventura also features TMC traffic information service and an enhanced 3 watt speaker built-in and also an FM Transmitter that will provide street-by-street directions to your vehicles speakers. Full European Mapping is provided for the UK, Republic of Ireland and Eastern and Western Europe. These preloaded maps are free to update for the lifetime of the Snooper S6810 Ventura satnav.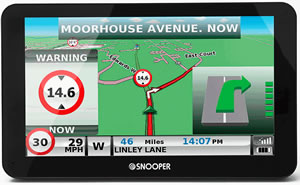 Before inputting a route the Snooper S6810 Ventura allows you to input your car and caravan dimensions (height, width, length). The Snooper S6810 Ventura will then only route you along appropriate roads for your vehicle. This feature can help you to save a lot of driving time and fuel with the avoidance of low bridges, narrow roads and more.
Post code searches for destinations is provided by Royal Mail and HERE mapping.
Snooper S6810 Ventura TMC traffic information service will alert you to traffic incidents in the road ahead. When notifying you of traffic incidents the the Snooper S6810 Ventura will suggest alternative routes to drive to avoid delays on congested road(s).
On screen information includes speed limits for most roads in Europe. You can choose car speed limits or caravan speed limits or overspeed limits. Furthermore junction view and lane guidance at major junctions will be displayed on screen.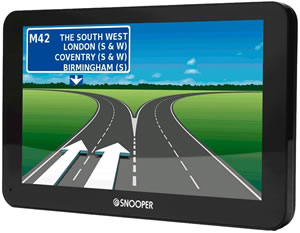 Optionally, speed cameras can also be downloaded to the Snooper S6810 Ventura at an annual, quarterly or monthly charge. The Snooper S6810 Ventura uses the Snooper AURA speed camera database, this is the same database as used with Snooper's range of dedicated speed camera detectors such as the Snooper 4ZERO Elite BT. Click here to read more about the AURA speed trap database. Please check with the local/country laws before using speed camera database warnings outside of the United Kingdom.
Speed camera subscription costs:
‣Monthly: £2.99 inc VAT
‣Quarterly: £7.99 inc VAT
‣Annually: £29.99 in VAT
You can also connect a compatible smartphone with the Snooper S6810 to make and receive Bluetooth, handsfree calls.
When entering and choosing your route you will have a choice of quickest route, shortest route, avoiding toll roads, avoiding motorways or the most economical, cost-effective route. You can also search and navigate by Junction number and create bespoke routes, select roads to drive on.
Multiple-drop locations - if you are visiting or delivering to multiple places along the same journey you can add up to 16 different addresses just by adding the post codes.
Inlcuded are 24,000 campsites and stopover sites across 31 countries in Europe. Databases provided include ACSI, BordAtlas and CamperStop. Over 2 million points of interest along your route will include restaurants, hotels, petrol stations, speed camera, golf courses, cash machines, shops plus many more. Local petrol stations will be available to search and drive to. There is also a corridor search that will suggest points of interest along your pre-programmed route. You can also increase the font size of on-screen Snooper S6810 Ventura road names and numbers making it easier and safer to read whilst driving.
The Snooper S6810 also features an in-built route time which will tell you when to take a break. The Snooper satnav will also tell you how much time you have before taking your next break.
If after a days trucking you wish to use the Snooper S6810 Ventura sat nav in a car or other smaller vehicle where bridge heights, road widths, etc isn't an issue you can simply select the Snooper S6810 Ventura 'car mode'.
The Snooper S6810 Ventura is also fully compatible with Tyre pressure monitoring which is available as an optional extra. The tyre pilot Tyre Pressure Monitoring system (TPMS) tells you, as you are driving, what the tyre pressure is and you will be able to see abnormal temperature increases in the tyres. The Tyre Pressure Monitoring System can help you achieve the optimum level of tyre pressure. The results of using the TPMS can save up to 10% in fuel charges due to correctly inflated tyres and keep track of tyre condition using the TMPS can extend tyre life by 35%.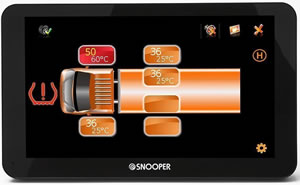 The Snooper software will only operate on the following Windows based operating systems: Windows Vista Windows 7, 8 and 8.1 and Windows 10
The Snooper software will only operate on the following Mac based operating systems: Mac iOS X - Yosemite, El Capitain and Sierra.