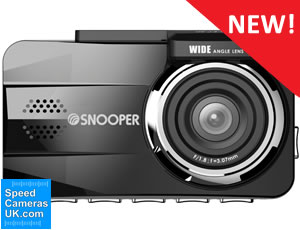 Snooper DVR-4HD performs two very different but useful fuctions all while it's mounted on your vehicles windscreen. Firstly, the DVR 4HD alerts to speed cameras via a free subscription, and secondly it features a full HD 1080P in-car camera to record traffic incidents.
Product summary:
Detection range:
Technology: GPS and Dash Cam
Installation: Windscreen mounting.
Buy accessories for the Snooper DVR-4HD.
---
1 Year Guarantee with FREE UK delivery.
Snooper DVR-4HD with FREE Speed Camera Updates - £149.99
Call Sales: 01733 777623 (Mon-Fri 9:30am to 5:00pm)
Delivery in the United Kingdom (UK) is FREE on all orders over £50. Next working day delivery available for £9.99. For full delivery details please see delivery information.
---
Snooper DVR 4HD explained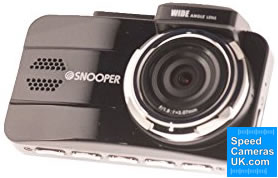 The Snooper DVR-4HD is a dashboard camera and a speed camera detector with FREE speed camera updates for the Lifetime of the product. The Snooper dash cam will record in continuous, loop recording mode which means the Snooper will record over old videos as the microSD Card becomes full. Recordings are made in 1080p Full High Definition. A 16GB microSD is included in the box and this can be upgraded to a maximum of 32GB.
The Snooper DVR-4HD has a 3.0-inch TFT LCD LCD screen for viewing back video instantly.
Parking mode relies on the internal battery to provide power to capture events when your vehicle is parked.
GPS technology not only tells you where all the fixed speed cameras are it also records your journey. You can then view your journey on Google Maps.
The dashboard camera is a 2 Megapixel camera that will capture high-quality video of the road ahead. The Snooper records a 152 degree wide angle view of the road ahead. The windscreen mount also rotates to a maximum of 360 degrees on the windscreen bracket so you can easily capture your chosen view of the road ahead and should you need to redirect the direction of recording this is simple and straightforward.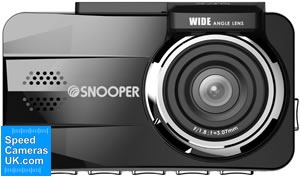 The Snooper dash cam includes a microphone which can optionally be switched off. Furthermore a time and date stamp is recorded on all vides which can be turned off.
Protect your driving licence with Snoopers speed camera database. Furthermore the Snooper DVR-4HD will help protect your no claims discount on your driving insurance by ensuring you have the evidence of incidents and accidents recorded which can be used as evidence.
Driver fatigue warnings are provided when you are making a long journey whereby you will receive a reminder to take a break from driving. There are also forward-facing collision and lane departure warnings that are provided by the Snooper DVR-4HD.
There is an in-built G-Force Sensor that will ensure video is saved when an impact or heavy braking is detected. When a high G-Force is detected, the Snooper will save the video 15 seconds before the high G-Force and 15 seconds after the high G-Force is detected. This ensures you will always save video when it matters the most.
The recording modes are:
‣Continuous for normal recording
‣Emergency recording for recording events that happen on your journey
‣There is also a G-Sensor for detecting collisions and the in-car camera will start recording in the event of an impact-detection.
---
DVR-4HD Speed Camera Alerts
The DVR-4HD in-built speed camera detector will display the speed of your vehicle when you are driving. As you approach a fixed or mobile speed camera in the database, the screen will change to display the type of camera in the road ahead and the device will start beeping at you.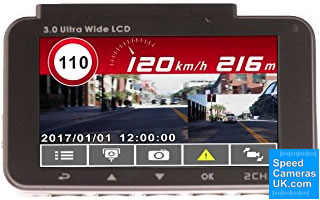 The DVR 4HD will warn to speed cameras locations across the UK and a number of European countries:
United Kingdom, France, Germany, Austria, Switzerland, Denmark, Norway, Finland, Sweden, Poland, The Netherlands, Belgium, Luxembourg, Spain, Portugal, Italy.
You can also set the Snooper DVR 4HD in-car camera to warn you when you are travelling above a certain speed. Simply set the limit and the device will beep when you are above the set speed limit.
---
Snooper AURA speed camera database
The Snooper DVR 4HD uses the AURA speed camera database, access to this database is FREE for the lifetime of the product, with four FREE updates eligible per year. The following countries can be added:
United Kingdom, France, Germany, Austria, Switzerland, Denmark, Norway, Finland, Sweden, Poland, The Netherlands, Belgium, Luxembourg, Spain, Portugal, Italy.
Please note: *Due to the vast amount of speed camera data with the AURA database, the Snooper DVR-4HD will not accommodate the complete worldwide AURA speed camera database. Therefore you will need to select which countries you actually need to download e.g. if you are only going to use in the UK, there is no point in downloading/updating the rest of Europe.
The AURA database can be downloaded to the device via a PC connected to the Internet with USB connection.
---
Detectable Speed Cameras
Utilising a GPS database the Snooper DVR4HD will provide advanced warnings to the following fixed and mobile speed cameras:
Fixed cameras:
‣Gatso
‣Truvelo
‣Truvelo D-Cam
‣SPECS
‣HADECS 3 (identified on the DVR-4HD as a GATSO camera)
‣SpeedSpike
‣Peek
‣SpeedCurb
‣Watchman
Mobile cameras:
‣Mobile speed camera locations as included within the downloadable AURA database.
---
Snooper DVR-4HD Features:
‣Alerts to fixed speed traps via GPS
‣In-car camera captures Full 1080P High Definition Videos
‣3.0-inch touchscreen - speed camera detector display and playback videos
‣Emergency event recording uses G-Sensor to save videos 15 seconds before and 15 seconds after event
‣Parked mode uses internal battery power when the car is parked to using motion detection for recording events
‣Collision warning and Lane Departure warning. Also includes Fatigue warning with reminders to take a break when driving long journeys.
‣152 degree angle view
‣Built-in 2.0 Megapixel camera lens
‣Forward-facing collision and lane departure warnings and driver fatigue alerts
‣Microphone
‣Playback videos on a computer
‣Records date, time and vehicles speed
‣Records well in both day and night lighting
‣Includes 16GB micro SD casrd in the box. Supports up to 32GB microSD cards
‣Fully Portable, easy to transfer from vehicle to vehicle
‣FREE updates to the AURA speed camera database (maximum 4 updates per year)
‣1 Year manufacturers guarantee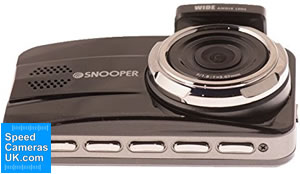 ---
Snooper DVR 4HD Manual
Learn even more about the Snooper DVR-4HD by reading the manual. Click the PDF logo below. The manual opens in PDF format.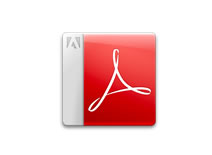 ---
Snooper DVR 4HD Question and Answers
To ask a question please click here.
---
Snooper DVR 4HD software requirements:
The Snooper DVR-4HD is compatible with both Windows and Apple Mac computers and laptops using the following Operating Oystems (OS):
‣Windows 7, Windows 8 or Windows 10
‣Mac OS 10.5 or higher
---
Camera updates:
Updates via Windows based PC or Mac computer.
---
Snooper DVR-4HD - What's in the box?
‣Snooper DVR-4HD Vehicle Drive Recorder
‣FREE speed camera updates (four updates per year, once a quarter)
‣Windscreen bracket (suction type)
‣Windscreen bracket (Adhesive type)
‣12/24 volt Vehicle Power Cable
‣16GB microSD card
‣QuickTime, User Manual, PDF Reader, Snooper DVR all supplied on CD-Rom
Please note: No USB cable is included, however the USB cable that is required is a standard USB to mini-USB cable.
---
SpeedCamerasUK.com Online Shop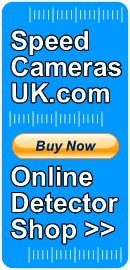 All of the speed cameras detectors at SpeedCamerasUK.com are also available to buy from us and include FREE delivery within the United Kingdom (UK). For deliveries outside of the UK please see delivery information for costs.
We hold extensive stock of each model (unless otherwise indicated) with dispatch same working day for orders placed before 3pm on any working day.
15 years of online trading
We first started selling speed camera locators right here at SpeedCamerasUK.com in August 2003. With 15 years of trading you can rely on us to only supply the best tried and tested products with unrivalled product knowledge from ourselves and, equally important, excellent support from the relevant manufacturer if it is required.
To view the latest range of speed camera detectors to buy click here.
Last updated: 11th January 2019