Home / Sat Nav Reviews / Snooper Sat Navs
Snooper DB8500 Pro Review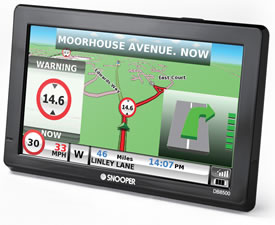 Snooper DB8500 is a leading sat nav which includes 7-inch screen, DAB Digital Radio, DVB-T Digital Television, Bluetooth connectivity, free lifetime traffic updates, free lifetime maps and a choice of either UK and Ireland or European preloaded mapping.
The DB8500 Pro can be loaded with one of the best speed camera databases (via subscription) with advanced alerts to speed camera locations across the units preloaded mapping.
Read more about the DB8500's features, how it works and which speed cameras it detects and more.
---
Review: Snooper DB8500 Pro
Product type: Sat Nav
Detection range: 1000metres
Technology: Built-in GPS Antenna
Installation: Dash or windscreen mounting
Cost from: £400
Buy accessories for the Snooper DB8500 Pro.
---
Key Features
‣GPS satellite navigation - Navigate from A to B with GPS satellite navigation.Including post code search.
‣Know the speed limit - The DB8500 features My-Speed, which displays a speed limit sign in the bottom left had corner of the screen on all roads with your actual speed next to the speed limit symbol.
‣Lane Guidance and Junction View - Get more information regarding the correct lane to be in along all motorways.
‣Visual speed camera warnings - When subscribed to the Aura speed camera database, the DB8500 displays speed limit and camera type all speed camera locations.
---
Snooper DB8500 Pro Explained
The Snooper DB8500 comprises of three different models each designed to yes navigate you, but in three very different vehicle types. The three DB8500 models include the DB8500 Syrius which is for drivers of cars/small vans only, the DB8500 Truckmate for drivers of trucks, HGV's and other oversized vehicles and the DB8500 Ventura which is for drivers towing caravans and driving motorhomes.
What makes these three sat navs so different isn't the maps, but the database of preloaded road heights and widths. When using for example the Snooper DB8500 Truckmate in a lorry, you can enter the lorries height, width, weight and even load type. Using this data the DB8500 truck version will then calculate the best route for the vehicle you are driving and most importantly avoiding low bridges and road which are just too narrow. Furthermore if you then change your cab for car, there's also a car only mode on both the Truckmate and Ventura versions of the DB8500 satnav.
To view the Snooper DB8500 PDF manual click here.
---
Snooper DB8500 Pro Features
The Snooper DB8500 Pro Sound sat nav range features a large 7-inch LCD screen which provides turn by turn voice directions to your destination. You also get a DAB Digital Radio and DVB-T Digital Television. Furthermore there is an FM Transmitter for hearing the sat nav directional instructions and speed camera alerts through your vehilces radio. In addition the DB8500 features both lane guidance and junction view - these two handy on screen features let you know which lane to be in at motorway junctions and exits.
There's also a free lifetime TMC (Traffic Message Channel) traffic information service feature which will route you around roadwork's, congestion and traffic jams along your route ahead.
The feature 'Your Route' makes it possible to save your bespoke routes. Plus, if you are visiting multiple destinations you can navigate to up to 16 different destinations by inputting post codes of each destination.
The Snooper DB8500 also includes an MP3 and MP4 player for playback of sound and video files. The DB8500 is also Bluetooth enabled allowing for handsfree calls.
---
FREE lifetime map updates
Whichever version of the DB8500 Pro sat nav you buy it includes free lifetime map updates of the preloaded maps.
---
Map coverage
There are both UK and Ireland and full Europe mapping versions of the car Syrius and truck Truckmate DB8500 models. But there is only a European mapping version available for the caravan/motorhome DB8500 Ventura.
The full Europe versions include the following maps:
UK, Ireland, France, Spain, Portugal, Italy, Austria, Switzerland, Belgium, Holland, Luxembourg, Germany, Denmark, Norway, Sweden, Finland, Poland, Estonia, Lithuania, Czech Republic, Latvia, Liechtenstein, Hungary, Romania, Slovakia, Slovenia, Serbia, Montenegro, Croatia, Turkey, Greece, Albania, Bosnia & Herzegovina, Bulgaria, F.Yugoslavia Rep.of Macedonia, Russia.
---
Speed camera alerts
If alerts to speed camera locations in a sat nav are important to you, then for an additional cost you can add speed camera alerts to the Snooper DB8500 sat nav.

Like Snoopers range of dedicated speed camera detectors, their sat nav range also uses the Snooper Aura speed camera database. This database really is second to none, being updated on a daily basis (most others are at best updated weekly) and is also fed from actual motorists using other Snooper devices as well as their in house speed camera database team.
The AURA database can be downloaded to the DB8500 Pro via a Windows based PC connected to the internet. It's important you regularly update, as the DB8500 database is only as good as the last download.
snooper AURA speed camera database is available via subscription from the manufacturer and priced at £69.99 a year.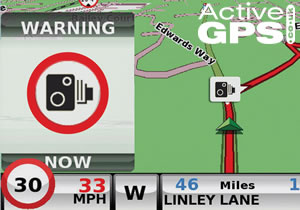 Pictured above: Partial screen of DB8500 sat nav with speed camera warning.
---
Detectable Speed Cameras
Utilising a GPS database the DB8500 will provide advanced warnings to the following fixed and mobile speed cameras:
Fixed cameras:
‣Gatso
‣Truvelo
‣Truvelo D-Cam
‣SPECS
‣HADECS 3 (identified on the DB8500 as a GATSO camera)
‣SpeedSpike
‣Peek
‣SpeedCurb
‣Watchman
Mobile cameras:
‣Contained within the AURA database.
---
Speed limit alerts
On top of the Aura speed camera database of fixed and mobile speed camera locations, the Snooper DB8500 also includes a speed limit database named My-Speed. The My-Speed database includes the speed limit for all roads throughout the units preloaded countries. This is an extremely useful feature as it helps you stay safe and within the permitted speed limit.
---
Snooper DB8500 Pro features at quick glance:
‣7-inch full colour LCD touch display
‣Pre-installed street-level maps of the UK and Ireland or Europe (two versions available)
‣DAB Digital Radio
‣DVB-T Digital Television
‣FM Transmitter
‣TMC traffic information technology
‣Full Postcode search
‣Multi-route planner - up to 16 different destinations
‣Junction View
‣Lane Guidance
‣My Speed - speed limits
‣Your route - calculate your own bespoke routes
‣Route timer
‣User POIs - upload and share POIs with other users
‣Navigate by Junction number
‣Bluetooth handsfree
‣MP3 player
‣MP4 player
‣Built-in SIRF III GPS antenna
‣Turn by turn voice instructions
‣Built-in rechargeable battery
‣'One touch' Home & Office route planner
‣2D & 3D map views
‣Optional Aura speed camera database
‣1 Year manufacturers guarantee
---
Snooper DB8500 software requirements:
The Snooper DB8500 will only operate on Windows computers. Specifically, you must be using Windows XP (32 bit), Windows Vista, WIndows 7 or Windows 8 / 8.1. Additionally the software will only work with Internet Explorer 6 or Netscape Navigator 6 or above.
The Snooper DB8500 will not operate when using Windows 95, 98, Millennium, 2000, Windows XP (64 bit) or Apple Macintosh operating systems.
---
Last updated: 11th September 2023