1 Year Guarantee with FREE UK delivery.
I have read and agree to SpeedCamerasUK Terms and conditions of sale
Nextbase 402G Professional - NO LONGER STOCKED by SpeedCamerasUK.com
Delivery in the United Kingdom (UK) is FREE on all orders over £50. Delivery outside the UK costs £14.99 within Europe and up to £29.99 for the rest of the World. For more information please see delivery information.
Nextbase 402G Professional explained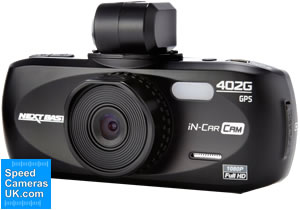 The Nextbase 402G is an award winning dashboard camera. It has been voted Which? Best Buy July 2014 as well as awards from Auto Express Magazine and The Sunday Times Newspaper. This Nextbase will protect you against other motorists by continuously recording video and overwriting video as the microSD becomes full. There is a built-in G-Sensor that will store videos and protect them from being overwritten when an impact or heavy braking etc. are detected.
The Nextbase 402G records in 1080p Full HD and has built-in GPS technology recording your GPS location and GPS speed. You can view video instantly on the built-in 2.7 inch screen or view video on a PC along with your journeys route on Google Maps. There is also a HDMI and AV output as well as a HDMI cable provided in the box for viewing video on a TV.
The viewing angle of the Nextbase 402G dashboard camera is 140 degrees capturing a wide view of the road ahead. Advanced Dynamic Range technology is built-in allowing you to record in the day and night with great results.
Parking mode is a feature on the Nextbase 402G so you will always capture events as they happen when you are away from your vehicle using motion detection.
Photo mode turns the Nextbase 402G into a camera. Take pictures of scenery or document evidence of an insurance claim.
A built-in battery enables you to playback video without the need for a power source.
The Nextbase 402G does not include a micro SD Card in the box. You can buy microSD card up to 32GB to use with this Nextbase dashboard camera. You also get a USB to PC cable included in the box for playback of video on your Windows computer. Nextbase dash cams are not compatible with Mac computers however you can playback video on a TV. A HDMI cable is also included.
---
Nextbase 402G Professional Features:
‣ Full HD 1080p video recording at 30 fps
‣ Inbuilt GPS module (tracking software included)
‣ Advanced Wide Dynamic Range technology
‣ 6G sharp glass lens, 140 degree wide view angle
‣ 3 Mega pixel sensor resolution
‣ Superior low light performance
‣ Built-in G-Sensor which automatically saves and protects any videos in the event of a crash
‣ Built in microphone
‣ HDMI high-definition video output
‣ Manual emergency recording
‣ Loop Recording: never miss that important moment. If the SD card is full it will automatically overwrite the earliest segment, and continue recording
‣ Parking surveillance mode
‣ Inbuilt battery provides essential backup in the event of an incident and playback away from the car
‣ Motion detection
‣ Easy to install: suction mount and 12v/24v DC power cable included. Power cable is 4m long to allow a neat installation around the edge of the windscreen, down the passenger A pillar and under the carpets to the cigarette lighter socket.
‣ HDMI cable included to link to PC or TV for HD playback
‣ USB to PC cable included
‣ Micro SD card support up to 32GB (Requires SD card class 6-10)
‣ Dimensions 112.6 (W) x 63.3 (H) x 36.0 (D) mm
‣ Weight 100g
---
Software requirements
The Nextbase software is compatible with Windows computers. Nextbase software is not compatible with Mac computers.
---
Nextbase 402G Professional - What's in the box?
‣ Nextbase 402G Professional
‣ HDMI Cable
‣ USB to PC cable
‣ Click and Go windscreen mount
‣ Cigarette Lighter Cable
Last updated: 28th March 2017