Home / Sat Nav Reviews / Snooper Sat Navs
Snooper S2500 Pro

The Snooper S2500 is a great sat nav designed by Snooper. The Snooper S2500 includes 4.3-inch screen, FREE maps for the lifetime of the product, FREE TMC traffic information and is Bluetooth compatible for hands free calls.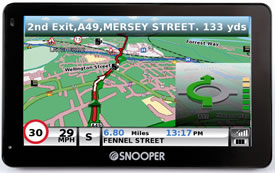 The Snooper S2500 can feature an optional speed camera database. This will warn you to all fixed and mobile speed cameras via the GPS database throughout the UK and Europe whilst getting you from A to B. There is also My Speed database of speed limits included for FREE so you know the speed limit for every road regardless of whether there is a speed camera located along that road or not.
You can store up to 16 multiple destinations along the same route for navigation. Plus you get Lane Guidance and Junction view along motorway networks.
Although the Snooper sat nav range doesn't include radar or laser detection, there is another Snooper product which adds laser detection the S2500 called the Snooper Laser Pod. To read the review click here.
---
Snooper S2500 Pro Models
In total there are three different Snooper S2500 sat navs these are: Syrius Pro, Truckmate Pro and Ventura Pro.
While all three models have the same features e.g. a 4.3-inch touchscreen display, Bluetooth, FREE TMC traffic updates and FREE sat nav map updates. The different models are preloaded with different software, which are designed to get different motorists or more accurately different vehicles safely from A to B.
If you drive a car or a small van then you need to buy the Snooper Syrius S2500, if you drive a truck or larger vehicle such as a high top-van then the Truckmate S2500 with its truck attribute database is the model you need. On the other hand if you regularly tow a caravan or drive a motorhome then the Ventura S2500 is the model to buy.
All three versions are available below, and with the exception of the S2500 Ventura you can also choose between preloaded UK and Ireland maps or full Europe maps.
To view the Snooper S2500 PDF manual click here.
---
Key Features:
‣4.3-inch full colour LCD touch display
‣Pre-installed street-level maps of the UK and Ireland or Europe (two versions available)
‣TMC traffic information technology
‣Full Postcode search
‣Multi-route planner - up to 16 different destinations
‣Junction View and Lane Guidance
‣My Speed - speed limits
‣Your route - calculate your own bespoke routes
‣User POIs - upload and share POIs with other users
‣Bluetooth handsfree
‣MP3 player
‣MP4 player
‣Built-in rechargeable battery
‣Optional Aura speed camera database
‣1 Year manufacturers guarantee
Snooper S2500 Pro Sound Manual
Looking for more information on the features of the Snooper S2500 sat nav or how it installs in your vehicle, etc? View the S2500 manual by clicking the PDF logo below. The manual opens in PDF format.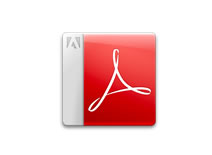 What's in the box?:
‣Snooper S2500 Syrius Pro
‣Soft Carrying Case
‣Windscreen Mounting Bracket
‣In-vehicle Charger
‣Mains Charger
‣USB Cable
‣Software CD-Rom
Snooper S2500 software requirements:
The Snooper S2500 will only operate on Windows computers. Specifically, you must be using Windows XP (32 bit), Windows Vista, WIndows 7 or Windows 8 / 8.1. Additionally the software will only work with Internet Explorer 6 or Netscape Navigator 6 or above.
The Snooper S2500 will not operate when using Windows 95, 98, Millennium, 2000, Windows XP (64 bit) or Apple Macintosh operating systems.
Subscription to speed cameras:

Like all Snooper speed camera detectors and sat navs, the Snooper S2700 receives its speed camera locations via the Snooper AURA speed camera database. It's important you regularly update, as the GPS database in your Snooper sat nav is only as good as the last download. Snooper AURA speed camera database is available via subscription from Snooper and is priced at £69.99 a year.

---
Snooper S2500 Pro Map Coverage

The S2500 either includes UK and Ireland or Europe. The full Europe map S2500s include the following countries:
UK, Ireland, France, Spain, Portugal, Italy, Austria, Switzerland, Belgium, Holland, Luxembourg, Germany, Denmark, Norway, Sweden, Finland, Poland, Estonia, Lithuania, Czech Republic, Latvia, Liechtenstein, Hungary, Romania, Slovakia, Slovenia, Serbia, Montenegro, Croatia, Turkey, Greece, Albania, Bosnia & Herzegovina, Bulgaria, F.Yugoslavia Rep.of Macedonia, Russia.
---
Snooper S2500 Syrius Pro (CAR)

Snooper S2500 Syrius Pro is designed for in car use and for small van owners and features here street-level maps for either UK or Ireland or all of Europe. If you drive a larger vehicle, such as a high-top van then we recommend you look at the Snooper S2500 Truckmate instead below.
To read more about the Syrius Pro please read more above.
Snooper S2500 Syrius Pro - DISCONTINUED
---
Snooper S2500 Truckmate Pro (TRUCK / HGV)

Snooper S2500 Truckmate Pro is preloaded with truck data and attributes and is designed for use in large vehicle, coaches and HGV's and features here street-level maps. The Snooper S2500 Truckmate Pro is available preloaded with UK and Ireland maps and also European map versions.
The Truckmate Snooper Sat Nav also include AdBlue Petrol Stations points of interest database so you will always be able to find the nearest petrol station. There is also a car mode so you can use the satellite navigation system not only in your lorry or HGV but also in your car.
Snooper S2500 Truckmate Pro - DISCONTINUED
---
Snooper S2500 Ventura Pro (CARAVAN / MOTORHOME)

Snooper S2500 Ventura Pro is preloaded with caravan and motorhome attributes and is designed for use in caravans and motorhomes and features here street-level maps. The Snooper S2500 Ventura Pro is only available as a European map version with no option for just the UK and Ireland.
The Snooper S2500 includes a free database of caravan sites and motorhome stopovers. In fact there are 20,000 campsites preloaded to the device throughout 31 countries. This database has been compiled using The Caravan Club, The Camping and Caravanning Club, ACSI, Bordatlas and Camperstop. You can search the database for facilities you require at a given/nearby location.
Snooper S2500 Ventura Pro - DISCONTINUED
---
Making a purchase from SpeedCamerasUK.com
Once you've found the sat nav, speed camera detector, other electronic device or accessory that you'd like to purchase you can buy online using a debit/credit card or via PayPal. We use SagePay to process our online payments who are PCI DSS Level 1 compliant, so you have total peace of mind with your personal and payment details.
All of our products are sophisticated electronic devices which requires that you read, understand, and act upon the information given in the instruction manual (usually available via the above 'manual' link). You will need internet access and, in accordance with the manufacturers' recommendations, regularly seek out and accept all firmware or software updates offered by the manufacturer. All GPS devices need to 'see' the satellites in the sky. Therefore you will need to know that your vehicle does not have glass that will block or impede the GPS signal. The same advice about vehicle glass applies to radar and laser signals.
---
Last updated: 11th September 2023