Snooper SC5900 DVR Sat Nav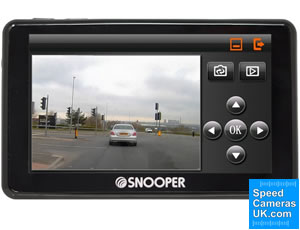 The Snooper SC5900 DVR is latest a sat nav in the Snooper satellite navigation range and was released in May 2018. Featuring a 5-inch screen enabling street-by-street navigation. The Snooper SC5900 DVR offers, at an extra cost, a speed camera locations database and it is preloaded with the MY-SPEED XL providing the road speed limit for every road which is displayed along with you vehicles speed on a large screen.
The SC5900 DVR is also compatible with TyrePilot feature. Sold separately the TyrePilot will enable you to monitor your vehicles tyre pressure and temperatures. By ensuring you have the correct tyre pressure you will save fuel and also get optimal driving performance from your vehicle.
The speed camera database available for the Snooper S5900 DVR is an optional extra that is paid for via subscription. You will receive warning to all fixed speed cameras using GPS technology. You will also receive warning to 'known mobile speed cameras' via a GPS database of locations.
Low Emissions Zones (LEZ) are also included so you can be rerouted around Emissions restricted areas.
You can also add an optional reversing camera to the Snooper SC5900 satnav models.
The Snooper SC5900 DVR comes in three different models. These are for use within different vehicle types and each device can route you along routes specific to your vehicles dimensions when used in a truck or with a caravan, for example. The three models are:
‣ Snooper SC5900 DVR Truckmate - For use within Trucks and large commercial vehicles.
‣ Snooper SC5900 DVR Ventura - For use with with a car and caravan or a motorhome.
‣ Snooper SC5900 DVR Bus and Coach - For use with with bus or coach.
‣ Snooper SC5900 DVR Syrius - For use within cars

You should buy the satellite navigation system that corresponds with your vehicle type. For example, if you tow a caravan or you drive a motorhome, the Snooper SC5900 DVR Ventura will accept your vehicles dimensions so that it can then route you along specific routes, avoiding low bridges, height and weight restrictions and more. A great feature of the Ventura is that it includes databases of camping-stops so you will always be able to find your nearest camping site.
Similarly, if you drive a truck you can buy the Truckmate version of the SC5900 DVR and enter your vehicles dimensions to be only routed along appropriate roads.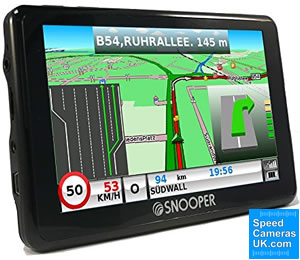 The SC5900 DVR Snooper is also compatible with Snoopers new TyrePilot Tyre Pressure Monitor for monitoring pressure drops and temperature increases in your vehicles tyres. Maintaining the proper tyre pressure and temperature with increase tyre life by up to 35% and save you fuel charges up to 10%.
Included with your purchase is a Premium TMC (Traffic Management Content) Traffic Information Service. Utilising vehicles and sensors around the country this TMC service will help to identify and route you around traffic congestion in the road ahead.
Featured on the SC5900 DVR are junction view and lane guidance features. These help to ensure you are always in the correct lane at the correct time at each junction. Also included within the SC5900 DVR is the Air1 Blue filling points station database which will help you find your nearest petrol station.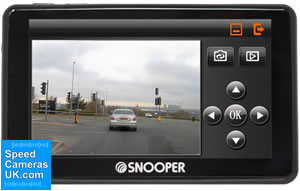 You also get FREE Lifetime Map updates to ensure you always have the latest mapping on your Snooper Sat Nav System.
The SC5900 DVR will also direct you along the shortest, most economical route. This will help you to save time and money. There is also a multi-route feature that will route you to 16 different destinations providing the most logical, cost-effective route/order of stops.
Speed camera locations are available (at an extra subscription cost) for the Snooper Satellite Navigation device which will help you to protect your driving licence. Also included with the SC5900 DVR is a speed limit feature called My Speed XL that will display the speed limits for cars, trucks and heavy vehicles (3.5t to HGV's). You can choose to be alerted if you are driving above the speed limit too.
Additionally you will get a database of Points Of Interest (POI's) including 2 million POI's such as restaurants, hotels, cash machines, petrol stations, airports, train stations and shops.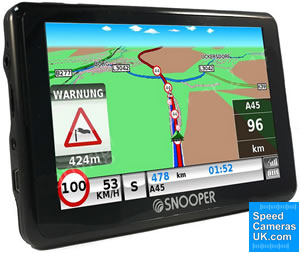 What's more is you get Bluetooth handsfree so you can make and receive calls whilst driving safely. This will protect your licence as you will be able to keep both hands on the wheel whilst talking on the telephone.
There is also a built-in route timer that will tell you when you should take a break along your journey. This is useful for all models of SC5900 DVR whether you are driving a car, towing a caravan or in a truck. There is also a new and improved menu display that is brighter, more stylish and easier to use.
---
Making a purchase from SpeedCamerasUK
Once you've found the sat nav, speed camera detector, other electronic device or accessory that you'd like to purchase you can buy online using a debit/credit card or via PayPal. We use SagePay to process our online payments who are PCI DSS Level 1 compliant, so you have total peace of mind with your personal and payment details.
All of our products are sophisticated electronic devices which requires that you read, understand, and act upon the information given in the instruction manual (usually available via the above 'manual' link). You will need internet access and, in accordance with the manufacturers' recommendations, regularly seek out and accept all firmware or software updates offered by the manufacturer. All GPS devices need to 'see' the satellites in the sky. Therefore you will need to know that your vehicle does not have glass that will block or impede the GPS signal. The same advice about vehicle glass applies to radar and laser signals.
---
SpeedCamerasUK.com Online Shop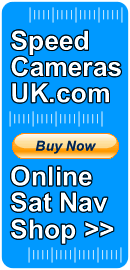 All of the sat navs at SpeedCamerasUK.com are also available to buy from us and include FREE delivery within the United Kingdom (UK). For deliveries outside of the UK please see delivery information for costs.
For UK orders, we aim to dispatch same working day for orders placed before 1pm on any working day. Delivery can be expected 1 to 7 days after placing your order.
15 years of online trading
We first started selling speed camera locators right here at SpeedCamerasUK.com in August 2003. With 15 years of trading you can rely on us to only supply the best tried and tested products with unrivalled product knowledge from ourselves and, equally important, excellent support from the relevant manufacturer if it is required.
To view the latest range of sat navs to buy click here.
Last updated: 16th January 2020