Snooper S6000 Truckmate LITE Review (no longer available)
The Snooper S6000 Truckmate LITE satellite navgiation system (now discontinued) uses GPS technology to navigate you to your destination and to alert you to speed camera locations. The Snooper S6000 includes a UK database of speed camera locations. Find out more about the S6000 Truckmate features, how it works and which speed cameras it detects.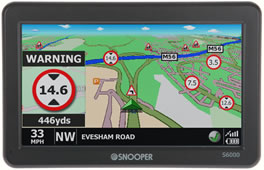 Review: Snooper S6000 Truckmate LITE
Detection range: 1,000metres
Set up: Built-in GPS antenna. 7-inch LCD touch screen.
Cost: £399.99 - European maps, £349.99 - UK & Ireland maps
Buy accessories for the S6000 Truckmate LITE here.
---
Key Features:
‣UK and European street-level maps
Snooper S6000 Truckmate LITE utilises NAVTEQ street-level mapping for the UK and Europe.
‣Award winning AURA speed camera locations
Detects Gatso, Truvelo, Watchman, DS-2, SpeedCurb, SPECS average speed cameras, Mobile Laser sites, Mobile Camera Vans, Mobile Gatso and Truvelo Cameras, Accident Hotspots, High Risk Zones, Digital Cameras and Schools.
‣Designed specifically for use in large vehicles, coaches and HGVs
Designed specifically for large vehicles, coaches and HGVs Snooper S6000 Truckmate LITE calculates safe routes based on your vehicles width, length, height and weight.
‣Multi-route technology
Multi-route allows you to calculate a single route around up to 16 different destinations just by adding the postcodes.
---
Snooper S6000 Truckmate LITE Explained

Snooper S6000 Truckmate LITE's routing software is the first satellite navigation software with dedicated routing designed specifically for trucks and large vehicles - plus Snooper's multi award winning AURA speed camera location technology. First launched on the Snooper S2000 Truckmate with a 4.3-inch LCD display in 2007, Snooper Truckmate has been a huge success and welcomed by drivers and fleet operators alike. Snooper Truckmate has won many accolades and awards and is sold by all the major truck manufacturers from Volvo to DAF.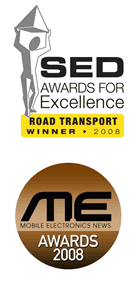 The Snooper S6000 Truckmate LITE satellite navigation system includes all the features and functions of the best selling Snooper S7000 Truckmate with the exception of DVB-T digital TV making it a more affordable system but no less impressive. Snooper S6000 Truckmate LITE is the result of years of development based on our research of the industry and feedback from the 1000's of truck drivers already using Truckmate. As a result Snooper Truckmate is the most comprehensive portable sat nav system designed specifically for trucks on the market. Snooper Truckmate uses NAVTEQ transport data at it's core, but Snooper Truckmate is further enhanced with 1000's more attributes combining to give far more comprehensive cover of hazards on more roads than any other system on the market.
The Snooper S6000 Truckmate LITE incorporates a large 7-inch display. This larger format display makes it much easier to view any potential hazards to your vehicle such as weight and height restrictions, plus it makes it possible to display all turn-by-turn routing instructions in a larger format making them much easier and safer to read whilst driving.
In fact everything about Snooper S6000 Truckmate LITE is bigger and better. It is easier to enter addresses and scroll through the systems menu as the on-screen button sizes are bigger and easier to press.
---
Snooper's Truckmate sat nav will save you £££'s in fuel and time!

Recent research has shown that a Snooper S6000 Truckmate LITE sat nav will pay for itself and quickly. Sat nav users on average drive 16% fewer miles, which means drivers use 16% less fuel. Plus travel times are reduced by 18% on average producing fantastic cost savings at a time when every penny counts, not to mention the cost saved avoiding damage to your vehicle and property on route!
---
TMC Traffic information technology - FREE of charge!
If you drive for a living you will know the importance of needing to know exactly what lies ahead. Accurate and reliable information is a must to ensure that you get to your appointments on time. Snooper's TMC information is provided by ITIS probably the best traffic information provider in the UK. Traffic information is fed from 100's of thousands of vehicles and sensors across the country providing up to the second information. It's reach and accuracy is far better than those systems that use fixed sensors only providing a considerably higher level of service.
Snooper S6000 Truckmate LITE TMC service will alert you to all traffic incidents across the country and lists them in distance order from your current position. As well as this overview however you can also choose to monitor traffic incidents that are specific to the route you have programmed on the system. And, if there is congestion on your route you can simply ask Snooper S6000 Truckmate LITE to automatically find a route around it.
---
Bluetooth Handsfree Technology
Stay on the right side of the law. Snooper S6000 Truckmate LITE is equipped with Bluetooth Handsfree Technology so that if you do have to take a call whilst you are on the move you can do so safely, with both hands still on the steering wheel.
---
Multi-route technology
Snooper sat nav systems have always been the most stylish available. But they don't only look good, they deliver a performance to match.Take our new and unique Multi-route planning software. Multi-route allows you to calculate a single route around up to 16 different destinations just by adding the postcodes. No stopping and starting, struggling to find each and every address, simply your full day's travel calculated and saved in just a few seconds.
---
Car navigation
Although Snooper S6000 Truckmate LITE has clearly been designed to navigate trucks and larger vehicles on safe and legal roads it also incorporates a car setting. Simply switch Snooper S6000 Truckmate LITE to car mode and it will navigate you on the most effective routes for your car instead!
---
The AURA advantage - not all speed trap databases are created equal!
Only Snooper sat nav system utilise the unique AURA database. All GPS location systems are only as good as the information that is stored inside them, therefore it is essential that your system uses the best there is. AURA was created to provide the very best automotive Speed Safety Camera database available.
---
Snooper S6000 Truckmate LITE Features:
‣7-inch full colour LCD touch display
‣Pre-installed street-level maps of the UK and Europe
‣Truckmate routing software
‣TMC traffic information technology
‣Full Postcode search
‣Multi-route planner - up to 16 different destinations
‣Junction View
‣Lane Guidance
‣My Speed - speed limits
‣Your route - calculate your own bespoke routes
‣Multi-route planner
‣Route timer
‣User POIs - upload and share POIs with other users
‣Navigate by Junction number
‣Bluetooth handsfree
‣MP3 player
‣MP4 player
‣3D Direction indicators
‣Built-in SIRF III GPS antenna
‣Turn by turn voice instructions
‣Built-in rechargeable battery
‣'One touch' Home & Office route planner
‣2D & 3D map views
‣Optional Aura speed camera database
‣1 Year manufacturers guarantee
---
Snooper S6000 Truckmate LITE Map Coverage (Europe version):
UK, Ireland, France, Spain, Portugal, Italy, Austria, Switzerland, Belgium, Holland, Luxembourg, Germany, Denmark, Norway, Sweden, Finland, Poland, Estonia, Lithuania, Czech Republic, Latvia, Liechtenstein, Hungary, Romania, Slovakia, Slovenia, Serbia, Montenegro, Croatia, Turkey, Greece, Albania, Bosnia and Herzegovina, Bulgaria, F.Yugoslavia Rep.of Macedonia, Russia
The Snooper S6000 is also available in one other version, the Ventura LITE for motorhomes and caravans.
---
Snooper S6000 Ventura LITE

Snooper S6000 Ventura Pro is preloaded with motorhome/campsite data and attributes and is designed for use in motorhomes and caravans and features NAVTEQ street-level maps for the UK and Europe.
---
SpeedCamerasUK.com Online Shop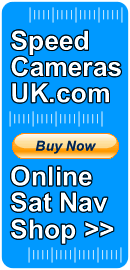 All of the sat navs at SpeedCamerasUK.com are also available to buy from us and include FREE delivery within the United Kingdom (UK). For deliveries outside of the UK please see delivery information for costs.
For UK orders, we aim to dispatch same working day for orders placed before 1pm on any working day. Delivery can be expected 1 to 7 days after placing your order.
15 years of online trading
We first started selling speed camera locators right here at SpeedCamerasUK.com in August 2003. With 15 years of trading you can rely on us to only supply the best tried and tested products with unrivalled product knowledge from ourselves and, equally important, excellent support from the relevant manufacturer if it is required.
To view the latest range of sat navs to buy click here.
Last updated: 20th November 2018