Nextbase 302G Deluxe explained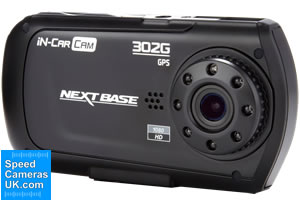 The Nextbase 302G is a dashboard camera that records in 1080p Full HD. Furthermore you also get GPS technology built-in which will record your position so that you can view your journey on Google Maps at the same time as viewing your video. The Nextbase 302G also features Infra red night vision technology that enables you to record video at night as well as in the daytime. The view angle of the Nextbase 302G is 120 degrees.

The Nextbase 302G will protect you from other motorists actions by recording all events that happen in the road ahead. GPS technology built-in to the Nextbase 302G will also record your vehicle location which you can later view on Google Maps along with the recorded video on your PC. The GPS will also record your speed as well.
There is a 2.7 inch 16:9 LED screen which will playback bright and clear video. The Nextbase 302G has a built-in battery so you can playback video without the need to be in your vehicle which is useful if you are involved in an incident and instantly want to show other motorists who was at fault.
A built-in 3-Axis G-Sensor will record G force data (acceleration, deceleration, turns and impacts) on a graph. If a major G-Force is detected then the recorded video at the time of the G-Force detection will be saved and protected from being overwritten.
Parking mode is a feature of the Nextbase 302G. This feature enables you to record video whilst parked to capture events as they happen using motion detection.
Continuous recording mode is a feature of all dashboard cameras and it refers to the feature whereby old video will be recorded over once the microSD card reaches full recording capacity.
Photo mode enables you to detach the Nextbase dashboard camera from its mount and use it as a camera for either documenting evidence of a crash or taking pictures of scenic landscapes, for example.
The Nextbase 302G does not include a micro SD Card in the box. You can buy microSD card up to 32GB to use with this Nextbase dashboard camera. You also get a USB to PC cable included in the box for playback of video on your Windows computer. Nextbase dash cams are not compatible with Mac computers however you can playback video on a TV.
There is a HDMI high-definition video output and an AV output for playing back video on a TV.
---
Nextbase 302G Deluxe Features:
‣ Full 1080p Full HD recording
‣ Inbuilt GPS - view journey on Google Maps
‣ 2.7 inch 16:9 LCD screen
‣ 120 degree wide viewing angle
‣ Inbuilt G-Sensor
‣ Motion detection; parking mode
‣ Microphone
‣ In-built battery
‣ Photo mode for taking pictures
‣ Infra Red nightvision to boost image quality at night
‣ HDMI and AV video output
‣ USB to PC cable included
‣ Dimensions 105.5 (W )x 54.4 (H) x 26.1 (D) mm
‣ Weight 101g
---
Software requirements
The Nextbase software is compatible with Windows computers. Nextbase software is not compatible with Mac computers.
---
Nextbase 302G Deluxe - What's in the box?
‣ Nextbase 302G Deluxe
‣ USB to PC cable
‣ Click and Go windscreen mount
‣ Cigarette Lighter Cable
Last updated: 28th March 2017