Snooper S6800 sat nav accessories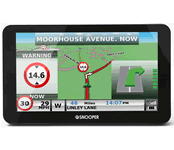 Buy accessories for your Snooper S6800 including soft and hard cases, vehicle power cable with TMC antenna, sun visor, windscreen mount and more.
The accessories available are suitable for the full range of Snooper S6800 sat navs including the S6800 Syrius (Car model), S6800 Truckmate (truck model), S6800 Ventura (motorhome/caravan model) and S6800 Bus and Coach (bus/coach model).
Once you've found the accessories that you'd like to purchase you can either buy online using a debit/credit card or via PayPal. We use SagePay to process our online payments who are PCI DSS Level 1 compliant, so you have total peace of mind with your personal and payment details. Alternatively, if you'd like to place your order over the telephone please call 01733 777623 (Monday to Friday - 9:30am to 5:00pm).
Orders are dispatched Monday to Friday. Delivery is FREE if you spend over £50. See the delivery page for more information.

Snooper S6800 - Vehicle Power Cable with TMC Antenna
Snooper S6800 vehicle power cable not only provides power to your Snooper S6800 sat nav in your car, truck, motorhome, etc but also features a built-in TMC antenna to provide traffic information. Simply plug into your vehicles 12 volt or 24 volt cigarette lighter adaptor and you are ready to charge or power your S6800 sat nav.

Snooper S6800 - Windscreen Mounting Bracket
Mount your Snooper S6800 sat nav on your car, van, truck/HGV, motorhome, etc windscreen using this official Snooper suction cup mount. The mount includes two parts: 1. S6800 unit holder/cradle, 2. Suction cup mount and arm.

Snooper S6800 - USB Cable
Connect your Snooper S6800 sat nav to your PC using this USB cable. Once connected you will then be able to transfer software, speed camera locations, maps updates and more to your Snooper S6800 sat nav.